Market players are expanding their product range and exploring new sales channels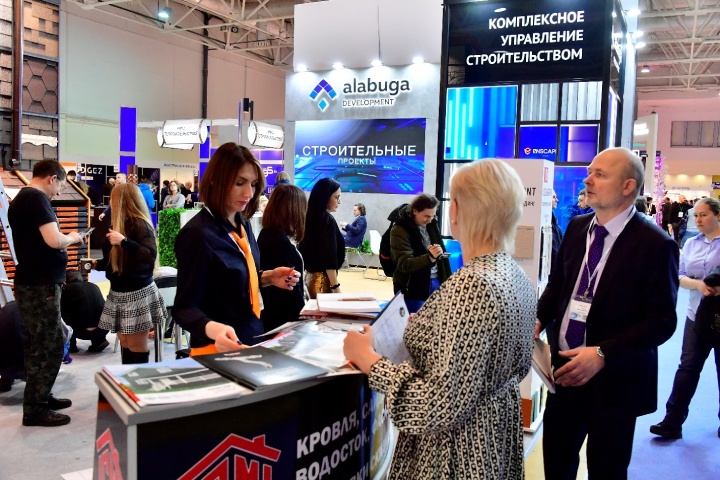 The exhibition ended and we can already tell from the first feedback from visitors and exhibitors that the start of the new construction season will be successful. Companies are expanding their product range, optimising their logistics, and developing new sales channels. The construction industry is still the driver of the economy.
During the plenary session of the Russian Construction Week, the Ministry of Construction of Russia announced a record number of housing commissioning in 2023, at least 50 mln sq m, and stressed that the industry has all the necessary resources and capabilities to make it happen. It was pleasing to note that RosBuild exhibitors expressed their willingness to contribute to the development of the construction industry by using advanced technologies and innovative materials.
Improving service and delivery takes Stroymet to the next level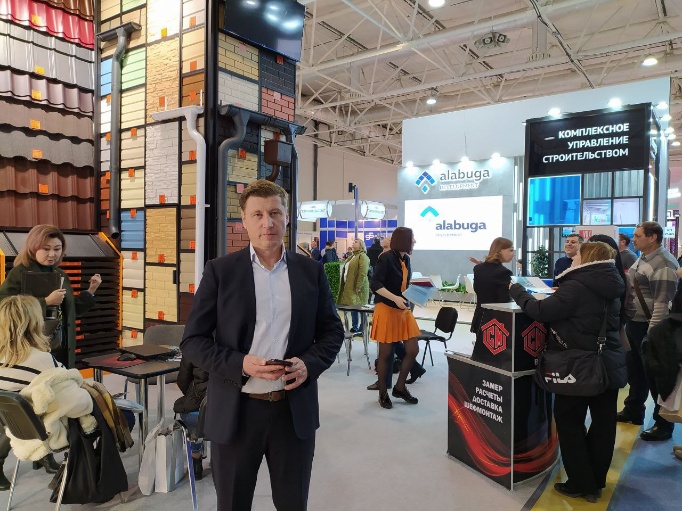 Photo: Tatyana Oskerko
Stroymet, an annual exhibitor at RosBuild, has once again brought many new products. Over 25 years of work, the company has built a clear development vector in the regional markets.
Stroymet Director General, Nikolay Oskin, spoke in detail about the new products in the range and shared his impressions of the exhibition.
For the upcoming construction season, we have prepared products that are most in demand among our customers, mainly roofing and facade materials for individual construction in several thousand items. We have 90% of our products in stock, so we guarantee prompt delivery.
Tell us more about your QR codes for each category. Why did you decide to introduce yourself in this way at the stand?
Indeed, this year we have developed a QR code for each product category, leading to the company website, where the customer can obtain all the information on price, availability and delivery. We work not only with large companies, but also with private customers. That is why we have made sure that a person who wants to buy these products can do it easily and conveniently. This is the requirement of the present time.
What else has the company planned for this year?
Firstly, this year we have paid extra attention to our pricing policy: prices have become even lower. Secondly, we are developing the possibility of low-cost delivery to the regions. In this way, we retain our customers, and there is an opportunity to promptly order the necessary items, as well as not to lose out on delivery.
It turns out that speedy order processing and affordable delivery take you to the next level?
Of course, and a great example for us are the marketplaces. Previously, you had to search for the right product at various points, but now you go to one pick-up point and pick up everything from pet food to tile glue. The customer now only needs to place an order and pay directly on the website. This retail format has become our gold standard for service and sales.
We work seven days a week, from 8 a.m. to late at night, and the warehouse has even longer opening hours. This advantage allows us to approach the status of a construction marketplace.
Speaking of the outcome of the exhibition, how do you rate the outcome of your participation?
It is still too early to sum up the results, but we can already say, according to preliminary estimates, that attendance is growing (this year significantly higher). In my opinion, this is due to two main reasons: the potential of the exhibition itself is developing, and in addition, businesses, both small and large, have begun to adapt quickly to reality. The product range of many market players is expanding globally, the customer experience is changing, and the needs of buyers themselves are growing. Therefore, the opportunity to meet customers at one location and discuss their current needs in detail is irreplaceable. During the trade fair, there is also the opportunity to discuss current issues with decision-makers and specialists from the partner companies. It is the right and shortest way to set up your sales policy for the season. We have been particularly looking forward to the regions; representatives from various Russian regions have visited our stand, the coverage is from the Urals to Yakutia, and the northern regions. So, we are entering the new season confidently.
Novacon offers a new perspective on architecture and building materials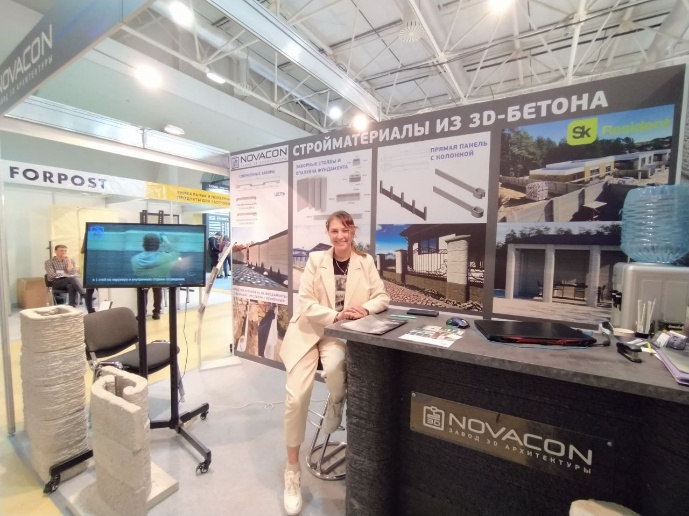 Photo: Tatyana Oskerko
This is not the first year Novacon has been at the show, but this year it has introduced an extended range of products using quick-setting and high-strength building mixes and construction 3D printing technology. Novacon technology makes it possible to build reliable, durable and, importantly, beautiful fences and pergolas for private homes, industrial facilities and public spaces.
In May 2021, Russia's first Novacon 3D printing plant was opened in the Moscow Region. The Novacon factory team plans to develop the 3D printing industry in Russia by expanding production capacity, opening production facilities in the regions and increasing the range of products.
Vladislava Malysheva, Head of Sales, said that although the plant has just opened, its products are already well known in other parts of the country. Participation in the RosBuild exhibition has greatly contributed to this.
We are proud of our products, as they combine novelty, quality, durability, reliability and a premium architectural look. At this year's exhibition, we are presenting 10 versatile forms, columns and panels. These elements can be assembled as if a construction set and make different structures of small architectural forms.
Our craft fences for country houses are particularly popular with clients: an architectural innovation unparalleled in Russia. Our fences have no separate elements, externally it looks like a monolith, very beautiful. The advantage is that special equipment is not required for the assembly; private customers also purchase this construction. Such a fence can be made with a cement-sand mixture or using different types of paint. The unique shape created by 3D printing gives each fence a futuristic look. It's a real boon for designers and architects, allowing them to create unique structures that can be combined with a variety of architectural styles.
Last year we expanded our range and our columns proved to be a great alternative to classic brick pillars. You can run utilities inside our columns. We have reached such a level of 3D printing that our products look like monolithic stone when cut.
We plan to expand the usual view of the building materials market and offer innovative elements for a wide range of applications, created by extrusion with a high-strength building compound. We have started to produce parts for garden and summerhouse gazebos. Our new product of which we are proud is a permanent decorative formwork. It is a straight, versatile panel that can be used as a great beam for fences and strip foundation, as a retaining wall, for restoration work or as an element of garden design.
We want to open up a new perspective on modern architecture, to create a unique product which is sure not to go unnoticed.
Tizol insulation is highly valued throughout Russia and abroad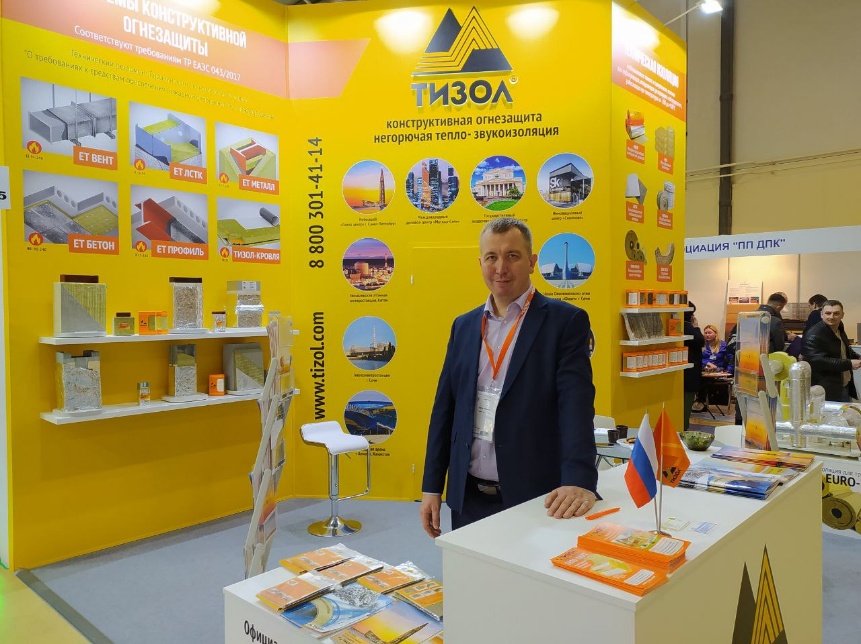 Photo: Tatyana Oskerko
Tizol is one of the leading Russian manufacturers of non-combustible thermal and acoustic insulation materials and structural fire protection systems based on basalt. The company was founded in 1949 to provide effective thermal insulation for industrial facilities.
The company is in possession of a unique, unparalleled technology for the production of basalt superfine fibre and non-combustible insulation based on it. The first superfine basalt fibre (SFBF) unit was commissioned in 1987. To date, 11 units have been installed and are operating successfully.
By developing the basalt production, the company reached a higher level of application of the material. In 2005, the first ET Vent structural fire protection system was certified. In a short period of time, Tizol has become a recognised leader on the Russian market in the development, production and sales of fire protection materials and systems.
"There were many visitors to our stand from the industrial sector (manufacturers of energy equipment, air ducts, boilers) and ordinary builders and designers," said Sergey Fedorov, Deputy Head of Marketing Department. "We produce a full line of materials for any building structures. We have a separate line for frame house construction, for stone house building.
"We brought a new product to this year's exhibition. Our structural fire protection systems include the Tizol roof system. For 15 years, we have been offering structural fire protection systems for air ducts, lightweight steel structures, metal structures and concrete. The area of fire protection for roofs made of profiled sheet metal remained uncovered. And last year we certified it.
"Our insulation is used throughout Russia and abroad: in Kazakhstan, Kyrgyzstan, Belarus. Our products are also supplied to the Far North for gas fields. Another line of our business is shipbuilding insulation. This includes military ships, civil vessels and tankers.
"Our plant is located in the Sverdlovsk region. It is an industrial region, we have our own basalt quarry in the Urals, and our company is a full-cycle production facility. We mine the stone, smelt it, blow the fibre, cut it, package it and ship it. We are almost unaffected by the crisis. The biggest problem is staff shortage, but we are trying to cope. We are increasing our production year by year, although there are more and more competitors."
Already now, you can book a stand to participate in RosBuild 2024 on the organiser's website.
---