Innovative technologies at exhibitors' stands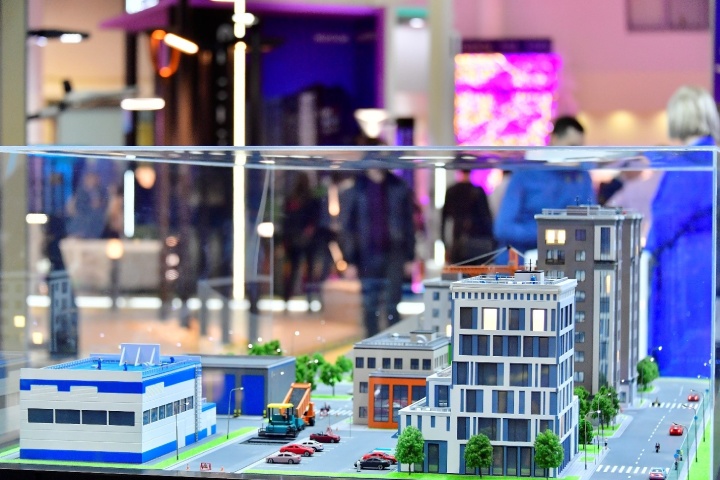 During the plenary session at the Russian Construction Week, the participants noted that one of the important factors that could have a serious impact on the industrial and construction sector could be the fourth industrial revolution. This primarily concerns industrialisation and digitalisation in construction, i.e. the transition to new, modern industrial technologies that will enable the development of high-speed industrial construction.
This was also evidenced by the stands of RosBuild exhibitors that displayed innovative technologies.
Light control improves energy efficiency and eliminates accidents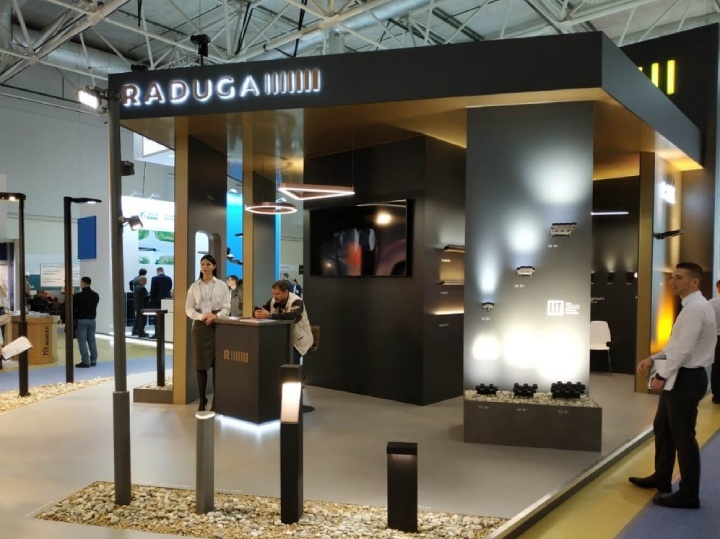 Technology of Light (Raduga Light) is a Russian manufacturer of professional LED equipment brand RADUGA for architectural and artistic, industrial, street, landscape and dynamic lighting, presented at the exhibition a wide range of its products. The company's Development Director, Sofia Dementieva, spoke in more detail about the company's projects and plans.
We are a Russian manufacturer of professional LED equipment, solving all kinds of tasks related to lighting. This includes parks, squares, traffic interchanges, residential compounds and building interiors.
You have a very unusual stand in the form of a city park. What is the reason for this decision to emphasise outdoor lighting?
The history of our brand began in 2014. That is when we started producing low-power architectural luminaires for architectural and artistic lighting. Even then, we were already working on and implementing interesting projects. Last year we started to actively develop the range for landscape design related to improvement of various urban areas and outside the city. Now we are presenting a relatively new direction. We also present luminaires for interior lighting. They are based on an aluminium profile system, have various geometric shapes and can be used on various sites.
We are also now actively working on a new project: lighting control and luminaire management to improve their energy efficiency and to eliminate as quickly as possible emergencies involving the disconnection of appliances that are placed, for example, on tracks or in outdoor space.
Outdoor is the most complex area. We started there, we learned the hard way and now we have a lot of experience with complex systems.
A number of projects you have already implemented. Can you name any parks, garden squares or neighbourhoods that you have dealt with?
We have implemented a lot of projects. One of the most significant is in Nizhny Novgorod. We did the lighting master plan for the city and supplied all the equipment as part of that project. We have a lot of completed bridge projects in our portfolio, for example, in Nizhny Novgorod. Recently we closed a facility: a bridge in the city of Cherepovets. It is an amazingly beautiful project. The bridge itself is beautiful, and the implementation turned out much better than the visualisation.
Your awards are displayed on your stand. Tell us more about them.
We won the Golden Photon Award for our design: a light fixture built into the railings. It often happens that stairwells are left unlit because there is no possibility to install supports and make external lighting. That is why we came up with the solution of recessed lighting in the handrail. It gives light obliquely, the light source is not visible, but the stairwells are illuminated.
Are you developing smart technology for lighting control, or is it lighting scenario management?
Right now, we are working on an automated control system for outdoor lighting. These are the street lights that stand in public gardens, on outdoor spaces, and various infrastructure facilities. I talked more about the Digital Urban Environment automated control systems at the round table on Smart Lighting of Buildings and Public Spaces organised by the National Association of Home Builders.
Russian manufacturer of fittings and pipes is ready to replace imported products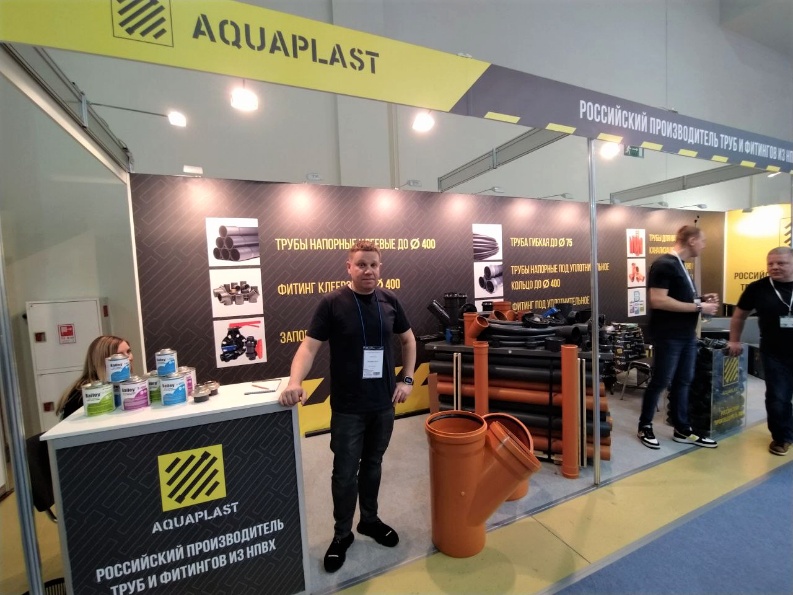 Aquaplast is one of the market leaders in the wholesale distribution of PVC products such as pipes, fittings and valves manufactured under the Aquaviva brand for industrial and commercial applications. The Aquaviva brand has long been trusted by customers due to its excellent performance, long service life and favourable price.
The company's own production facilities allow Aquaplast to offer customers European quality products at an affordable price.
The factory is equipped with powerful modern equipment, which allows producing high quality and technologically advanced product from PVC-U materials in a short time. Representative offices in Moscow, Saint Petersburg, Novosibirsk, Simferopol, Krasnodar and Kazan provide convenient and efficient logistics. Aquaplast is also an exclusive representative of the famous Italian brand EFFAST in Russia. The originality and excellent quality of products of this manufacturer are confirmed by certificates of conformity.
The Aquaplast team constantly studies consumer demand and industry innovations in order to offer its customers the most technologically advanced and cost-effective solutions for the installation of utilities. The low cost of products is achieved by using our own modern production facilities in Russia and long-term cooperation with the world's leading brands on exclusive terms.
Sergey Grechischev, Managing Director of Aquaplast, spoke about the company's main development vector.
We are pleased to present our products at RosBuild 2023, as we are the only domestic company that has the equipment to produce large diameter PVC fittings. No one in Russia yet produces valves but us. If previously we used to request parts from a supplier for a specific project and wait for a long time, now the necessary item can be produced within two or three days. This speed of production gives us a head start, of course. When the problem with filters arose, we started producing them too. Our products are designed for aggressive media, including acids. This is the advantage of rigid PVC. In the future, we plan to make equipment for production of canisters, for production of small inflatable filters, automatic valves. We have a lot of plans: in the long term we expect to fully implement a project in Russia to produce equipment for swimming pools and aquatic work.
Industrial flooring created with advanced technology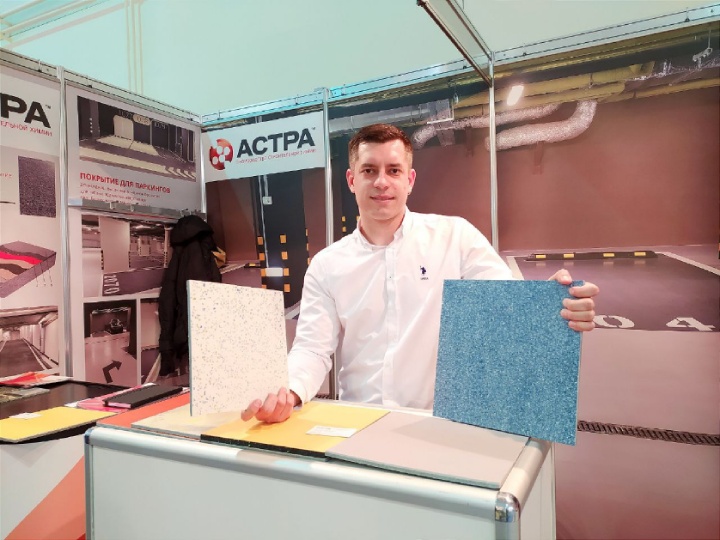 Astra has been producing construction chemicals and organic synthesis products since 2015. Astra's main lines of business are expansion joints, fire protection of steel structures, industrial floors, impregnations for concrete, coatings for pedestrian bridges, waterproofing of bridges, and sports coatings.
The company's stand at RosBuild 2023 provided visitors with an in-depth look at the various floor coverings: polyurethane, epoxy and MMA floor coverings.
Dmytry Martynenko, Project Manager at Astra, stressed that the use of industrial poured floors not only guarantees strong protection of the concrete floor, but also ensures excellent decorative properties. "Among modern materials the most popular are seamless, formed from liquid mixtures," he said. "They are applied to a prepared floor by pouring. The mixture is carefully smoothed and bubbles are removed. Once it has hardened, it forms a durable wear-resistant coating that can withstand heavy mechanical loads. The main component of polymer coating is resin that makes the material resistant to chemical compounds, protection against mechanical stress, moisture resistance and special properties. Then, it's just beautiful!
"The undisputed advantage of an MMA coating is that it combines the functions of waterproofing and road surface (2 in 1) in a single, sufficiently thin layer of material, providing an uncompromising solution for sites where the weight of the road surface is critical."
Already now, you can book a stand to participate in RosBuild 2024 on the organiser's website.
---