Domestic business is ready for import substitution and sustainable development
The very first days of RosBuild have already shown great interest in the products presented by the exhibitors. This year, the product sectors of the exhibition are more diverse than ever before: in addition to traditional building and finishing materials, lighting equipment, tools, various control systems and engineering solutions, steel constructions and environmental technologies are widely represented.
The majority of exhibitors point out that this year is becoming a year of new opportunities for the industry. Already the first days of the exhibition have shown great interest in new suppliers from friendly countries and in domestic equivalents of the brands that have left the country.
Varton Group: 2023 is a year of great opportunities for our company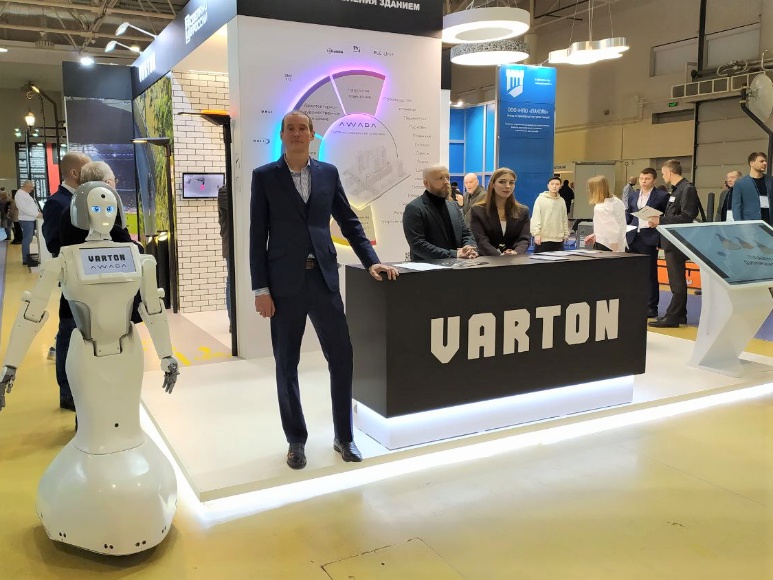 Photo: Tatyana Oskerko
Russian manufacturer Varton Group is exhibiting at RosBuild for the first time. At its stand, the company presents a domestic development for automation of lighting control and building engineering systems, AWADA Advance. Varton is included in the register of backbone enterprises in the industry. Vasily Sivtsev, Commercial Director, spoke in more detail about the company's tasks at the exhibition and its near-term plans.
With the departure of Western companies from the Russian market, domestic products have reached a qualitatively higher level. All the products presented at the stand of Varton Group, such as solutions for comfortable and safe park and street infrastructure, lighting products for interior and architectural lighting, are included in the register of the Ministry of Industry and Trade of Russia, which guarantees its use in the construction of social and budgetary facilities.
Our company has been growing rapidly in recent years, with growing revenues and a growing number of products. At the exhibition, we are presenting the AWADA lighting control system and managing engineering systems of buildings. It is a Russian software and a Russian development, which is included in the register of the Russian Ministry of Digital Development, Communications and Mass Media as a Russian IT product.
For us, 2023 is a year of great opportunity. The main customer for lighting technology and systems is the state. These are schools, hospitals, and road and transport infrastructure. Since lighting equipment has been included in the list of radio electronic products and at least 90% of the products we buy must be Russian-made, we have a lot of opportunities in front of us. We are planning for sustainable development in 2023.
Many brands from unfriendly countries have withdrawn from the lighting and building control market, and this opens up new opportunities.
The main objective of the company has always been to localise production in Russia. At the end of 2021, approximately 85% of our sales were made at our site in Bogoroditsk. At the end of 2023, we plan to increase this figure to one hundred per cent.
At the stand, we have planned meetings with our partners: the largest property developers operating in Russia. We are also waiting for architects, design engineers, designers – all those involved in creating integrated solutions in engineering and design. We look forward to many new contacts and contracts!
Unique DoDoors at Penza manufacturer's stand
DoDoors, representing the Penza region, specialises in the production of flush-mounted aluminium interior doors. This is a patented DoDoors design. This is the first time the company has exhibited at RosBuild. This was made possible largely thanks to the assistance of the Penza Region Export Support Centre. Support from the import substitution programme is helping the company to develop at an accelerated pace.
Stand 81B70
 The company has been manufacturing interior doors for 22 years. After becoming acquainted with the design features of Italian doors, the company's management decided to focus on the concealed installation option. The idea was to create an aesthetically pleasing and more affordable option for the Russian consumer.
The advantages of DoDoors doors are simple and straightforward:
- the doors do not fear moisture and do not bend because of moisture fluctuations
- any door size (up to 5 metres) can be manufactured
- DoDoors can be manufactured to suit any design.
Anton Terechev, co-founder of the company, spoke in detail about the features and advantages of the products presented at the exhibition.
In production, we use Russian aluminium, domestic glass, i.e. practically all of our materials except for the fittings. Currently, we have not managed to find good Russian analogues of high-quality European fittings. However, we have learned to make aluminium for our doors ourselves. We expect not only domestic contracts from participation in RosBuild, but possibly also international ones. In any case, we are ready for this.
DoDoors is unique because they can be made in almost any design: mirrored, glass, combined – painted and mirrored. It was a surprise for visitors to see an Aqua door at the company's stand, which had been in a niche with water throughout the exhibition. The DoDoors brand thus emphasises the water resistance of this product and confirms the guarantee it gives on its doors: ten years in the water without the slightest damage!
DoDoors production complies with the latest European trends: all materials are recyclable from glass to aluminium, everything is environmentally friendly. The production cycle also includes recycling scraps and waste from the manufacture of each order. Sustainability and safety have become an integral part of the DoDoors brand.
7 Skameek garden and park furniture: for your soul and comfort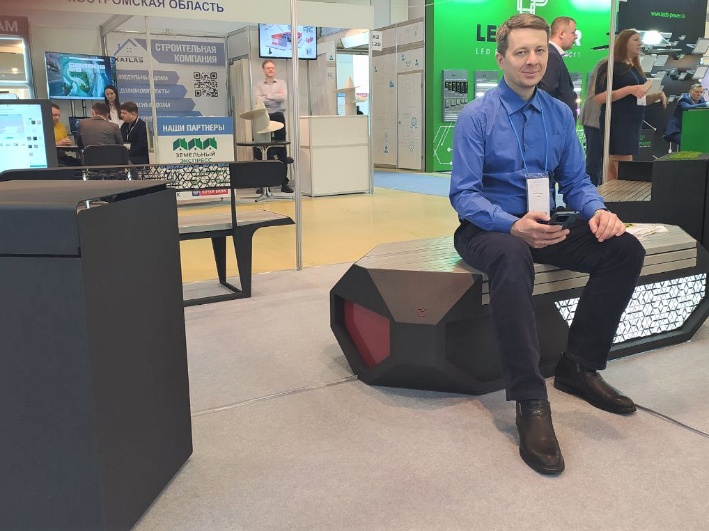 Photo: Tatyana Oskerko
7 Skameek is a manufacturer of quality garden and park furniture and a regular exhibitor at RosBuild. The company's range includes garden benches, litter bins, street planters, tables, barbecues and firewood racks, street stands, swings, decorative panels, signs, stands, bicycle parking stands and much more. The company's Commercial Director, Artem Gorbushin, spoke in more detail about the company's plans for the exhibition.
Pavilion No.8, Stand 82C30
At this year's stand, we presented street equipment, which over the past few years we have successfully supplied to residential compounds and city parks located in major cities of the country. Our products may also be of interest to the customers who are involved in equipping shopping centres and leisure areas that are located in pass-through areas in entertainment centres.
We use classic materials in the production of our benches: solid pine, larch treated with thixotropic impregnation and varnish. We also use classic, unadulterated cast iron and high-quality metal profiles made of high-strength steel and aluminium, which makes the products functional and durable. Our furniture is resistant to temperature fluctuations, atmospheric precipitation and other aggressive external factors.
Our modern, high-precision equipment enables us to manufacture garden furniture to the latest standards. We offer our customers laser metal cutting services, fabrication of metal structures of various complexity, and powder coating of products of high quality and in the agreed period.
This is the third time we have exhibited at RosBuild. Our main goal is to see new faces at our stand, to meet partners with whom we are already working, and to discuss with them further plans and opportunities for collaboration. Our participation in previous RosBuild exhibitions has given us an interesting result – an accumulating effect, and we have had customers who first came to see our products at the exhibition a couple of years ago. Therefore, we are working on the future and are waiting at our stand for all professionals interested in high-quality garden and park furniture.
Take part in RosBuild!
Get e-ticket on RosBuild website!
---